The following entry is a completely stream-of-consciousness response to reading a recent Alan Moore interview in The Guardian. With that in mind, take this with a grain of salt or with a cube of ultra serious sugar. Doesn't matter. I'm just flying-off-the-cuff after reading it and putting down whatever comes to my tired and overworked brain. So, don't be offended by anything I say, fanboys. I love you.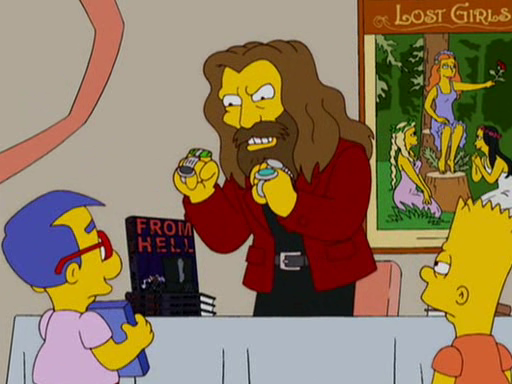 So the old bugger is at it again. Alan Moore has done so much for the art of superhero comicbook writing that he really has earned the right to say whatever he wants about the current product. But man, for such an articulate and eloquent speaker, he sure does spew forth a lotta angry-pants doo-doo when the topic of superheroes comes up. Now I'm not saying his recent Guardian rant in particular is doo-doo, just most of his dialogue on superheroes lately. In fact, I happen to agree with parts of this snippet, as I will delve into below. In case you missed it, Moore said:
"I haven't read any superhero comics since I finished with Watchmen. I hate superheroes. I think they're abominations. They don't mean what they used to mean. They were originally in the hands of writers who would actively expand the imagination of their nine- to 13-year-old audience. That was completely what they were meant to do and they were doing it excellently. These days, superhero comics think the audience is certainly not nine to 13, it's nothing to do with them. It's an audience largely of 30-, 40-, 50-, 60-year old men, usually men. Someone came up with the term graphic novel. These readers latched on to it; they were simply interested in a way that could validate their continued love of Green Lantern or Spider-Man without appearing in some way emotionally subnormal. This is a significant rump of the superhero-addicted, mainstream-addicted audience. I don't think the superhero stands for anything good. I think it's a rather alarming sign if we've got audiences of adults going to see the Avengers movie and delighting in concepts and characters meant to entertain the 12-year-old boys of the 1950s."
First of all, I find it hard to believe that Moore hasn't glanced at a single superhero comic since the late 80s. But if that is somehow true, then he's missed arguably some of the finest superhero comics ever, written by the likes of so many amazing creators that I am hesitant to even name a mere handful for fear of leaving too many out. And if Moore really has somehow avoided all that then he really should hold his tongue. However, Moore is at least in touch with, even if he hasn't seen them himself, superhero movies in regard to how strongly they are doing at the box office these days and what their target demographic is. He also seems well-versed in the audience that purchases superhero comics as well. And he doesn't even really exaggerate. Superhero comics are bought mostly by males in their 30s, 40s, and 50s. Thus, it comes as no surprise that the film adaptations have a similar audience—maybe skewing a bit younger and registering a bit more female percentage, but still pretty much the same.
Moore is a curmudgeon-to-the-max and is a huge asshole when it comes to being a debbie downer about an industry that put him on the map and essentially made him a superstar. And I hate his negativity in regard to superhero stuff, mostly how he tends to throw out blanket statement after blanket statement, as if all of the genre is trash no matter what. While I disagree with Moore's overall rhetoric, I do think there is something to be gleaned from the bit where he states, "I think it's a rather alarming sign if we've got audiences of adults going to see the Avengers movie and delighting in concepts and characters meant to entertain the 12-year-old boys of the 1950s." It's another blunt and unforgiving choice of words by Moore, aimed right at the heart of superhero fans, but there is truth in this statement.
Before I explain, let me preface this by saying: I don't like superhero movies—not one bit. They offend my personal taste in cinema, containing everything I despise: big budgets, the stink of Hollywood, way too much bad CGI, mainstream dude-bro action tropes, terrible scores, sexism galore, bastardized versions of classic stories, trying to insert stark realism into pure fantasy in all the worst ways, etc… (I could go on and on, but I digress. And unlike Moore, I'm not about to make a blanket statement here either. There are some superhero flicks out there that I enjoy, like Tim Burton's Batman films, parts of Watchmen, the first Iron Man, parts of the first Thor, and Avengers. But even these films that I dig only serve to further the idea that superhero comics are nothing but single-layered low-brow trash—yet another reason I'm so down on superhero movies). Let's face it, virtually all superhero movies are aimed those who feed on the lowest common denominator of mainstream pop culture. Think about the average superhero fan. Better yet, think about the average Batman fan. The average Batman fan, to use Moore's words, does take simple base pleasure in delighting in a concept designed to entertain the mind of a twelve-year-old. HE is much less versed in the comics and more well-versed in the more mainstream film adaptations or the generalized interpretation of the incredibly famous character. How many of these fanboys love the swervey, sex(ist)ually gratuitous, grim'n'gritty, torture pornographic, blood-splattering, fisticuff-stuffed, Michael Bay-esque explosion-packed game of throwing women in the fridge left-and-right that superhero comics and movies can so often be? A LOT. It almost makes me cringe to be listed among them. I most certainly am a die-hard superhero fan and a "Batman fan," but when I consider myself those things, it is on a much deeper, and frankly different, level.
Honestly, if I didn't read superhero comics the way I do—by processing every bit of in-story information in an attempt to sort out continuity inconsistency amidst the limitations of the genre, while simultaneously analyzing deeper levels of story-structure and how editors and multiple writer/artist combinations effect the construction and sustainability of a complex serialized semi-real-time narrative—then I wouldn't have much interest in superheroes. Bearing in mind that MOST people who love superheroes don't even begin to think about what I've just said even in the slightest, it makes me realize that MOST people who love superhero comics (and superhero movies, which offer literally none of what I love about superheroes from the list above) might actually be "emotionally subnormal." But then I just feel like a big jerk for even thinking that. I guess you could say I kinda feel like a big Alan Moore.
Maybe I'm just tired of meeting my supposed "peers" who rhetorically ask, "You're a huge Batman nerd, too!?" It's after two minutes of one-sided conversation with these folks—usually about "how the Bat-tumbler is badass" or "how sick awesome Joker was to slice off his own face" or "how David Goyer and Chris Nolan are geniuses"—that I realize the answer to their initial question is a resounding, "Not in the same way you are, man. Not even close."
I also happen to like pro wrestling. You can't even imagine my "peers" in that realm. But, to each his own, right?