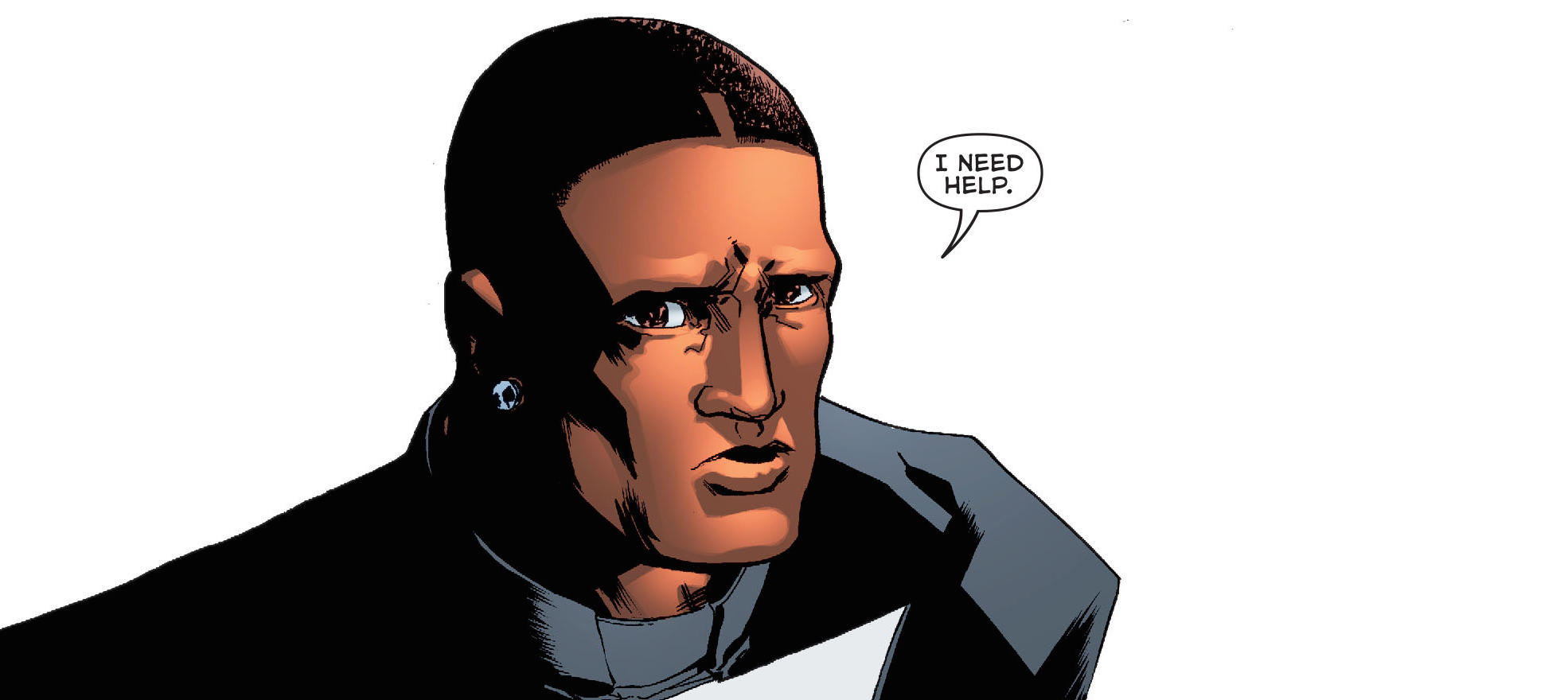 Welcome to another two-person round-table discussion/review of the DC weekly series The New 52: Futures End, in which a definitive future for the New 52 was shown, erased, rebooted, and then shown to be quite similar to what it previously was anyway. Of course, this being a weekly series, it took nearly a full year to get us from Point A to… Point A.2. Futures End began with New York City blown up and with the evil Brother Eye in charge. Futures End ended the same way, at least ostensibly. Both the esteemed Paramvir Singh Randhawa and Collin Colsher were strong advocates for Futures End for many, many months. But with a perplexing clunker of a conclusion, let's see how they feel now that all is said and done (or not said and done, rather).
___________________________________________________________________________
COLLIN:
Hi again, Singh. Let's get right down to brass tacks. Start us off, why don'tcha?
SINGH:
Thanks, Collin. Unlike Batman Eternal or Earth 2: World's End, The New 52: Futures End had one thing going for it: the ability to do anything. Therein, however, lay self-destruction as the series proved too popular for its own good. And after a while it became clear to DC Comics that this storyline needed to continue. Which storyline? The Batman Beyond one, of course. And what better way to do it than by pulling a twist: thirty-five years from now, New York City is still blown up and Brother Eye is still in charge. Not only did this make the connection to Convergence unclear, but it also left people with the question: "Why did we read the story if the bad guys win?" Yeah, I guess we'll find out how Tim Drake fixes the Bugs and disconnects Brother Eye when the new Batman Beyond follow-up book comes out, but what made this book worth it? The only events that we gave a damn about got wiped out.
What I appreciated more than the art or the storytelling of Futures End, something that was perfect until the very last issue, was the thematic value: the trope of "What makes a hero?" To Brother Eye, it is something that can bring order among the chaos of humanity. To Ronnie Raymond, it is someone who should be willing to be selfless, something Raymond himself struggled to be. To Dr. Yamazake, it is somebody who is selfless but at the human level of the normal people. To Superman, it is being there when needed. Yet all of this, all of this beautiful thematic value, something which I rarely ever read in a mainstream superhero comic, was tossed in the trash by letting Brother Eye win. Say Tim Drake arrived in a future with statues of the Justice League but found New York City flooded, readers would not mind it. Say Tim Drake returned to five years later and found a happy ending with Madison, readers would not be offended. Instead, when I read the series back, I feel like I should really only read the Stormwatch and Batman Beyond arcs because everything else is retconned.
COLLIN:
The reaction to the end of Future End has been extremely hostile. And I can't say I'm surprised. A lot of reviews are very harsh and definitely written in the angry moments immediately following the final issue. We've got a few weeks of distance to ease the pain, but even with the healing power of time at our disposal, there are still a few plot-holes that just won't stop bugging me. Rather than delve into them (which would be like asking questions in a letter at this point), I'll try to first assess the series based on its strengths… and then address its ultimate failure and loss of credibility.
Throughout the majority of its run, I really enjoyed Futures End. If I think back and imagine how I felt reading Futures End a mere month-and-a-half ago I should actually rephrase "I really enjoyed Futures End" to "I LOVED Futures End." It's so frustrating because the best thing about Futures End was how, at first, it successfully took advantage of the weekly format—every story arc (and there were many) progressed naturally and intersected with each other nicely, the passage of time was explicit and well-paced, the story beats ebbed and flowed accordingly, and we had several nice transitions and climaxes as a result. But then all was ruined in the last issue, which served to nullify all of the good stuff before it. That's why it's a mega bummer—a damn shame—that such a solid awesome series went out the way it did, if only for the fact that people will likely forget how great the ride mostly was along the way. A commenter on Martin Gray's site said it nicely about the end of Futures End: "Suddenly every story counts, but none satisfy." To go from such a tight, engaging narrative to a weird ending that makes very little sense any way you spin it (a plot-holey time-bubble shield around Terrifitech??) really mystifies me.
In a sense Futures End was the polar opposite of DC's other big weekly, Batman Eternal. Eternal was abysmal at best for an entire year, a slog to read through, but ended with a crowd-pleasing little wrap-up. Futures End was very enjoyable and well-crafted for nearly a year and then shit the bed at the end. To discredit my own comparison one sentence after making it, Eternal, despite its final issue happy ending, actually did something similar to Futures End by acting as a bait-and-switch for another title. Instead of Batman Beyond, Eternal led straight into Batman's "Endgame," giving us the same feeling of "who cares?" or "why did I bother?" It's dawned on me that ALL THREE of DC's weeklies for the past year (this includes the Earth-2 whatever meh series) have been pretty damn bad. Weekly titles are a gamble that I'm starting to think aren't worth the risk. Seriously, the only good weekly I can think of off the top of my head is 52.
Futures End NEVER should have ended in a way that made the entire series a huge zero issue for a Batman Beyond reboot. Brother Eye wins in the end? Tim changes the timeline, but nothing really changes except for a few superficial things? "THE END, but continue reading a new thing to see what happens"? A series must be critiqued on its own merits, as it stands alone. And what we have here is a series that leaves me underwhelmed but thinking "okay, there's a lot of interesting things that can be done with the new Batman Beyond series." Unfortunately, that series has yet to come. This was the one I was reading and it left me with a bad taste in my mouth.
It's BAD, but can so much of Futures End really have been all for naught, a big stinkin' waste of time? Alternate reality characters from erased timelines have long been adapted into the primary timeline—think of Scorch from "Emperor Joker," Paladin from "Second Coming," the Despot Batman and Despot Superman from Superman/Batman, and more. I'm still holding out hope that a lot of the characters from Futures End, even though they've been erased, will still be used in some capacity. BUT AGAIN, I can't retroactively say "Oh, cool they wound up using that or doing something with that, so I think Futures End is a five-star series now." The series is done and it must be judged by what happened in those 49 issues.
Singh, I know you like to try to get into the mentality of the writers and publishers in regard to narrative. Do you think that this creative team had something else in mind for the conclusion, but editorial forced a change?? Is that possible? The ending literally makes no sense.
SINGH:
Yes, I do believe they changed the original ending. The best part about The New 52: Futures End was the synergy between the creative team. Each writer had a specific character to write and it worked incredibly well. When Tim Drake communicated with Terry McGinnis you could tell within the conversation that it was two different writers, Jurgens and Azzarello respectively. That's why the ending, which was a product entirely by Jurgens, came as such a surprise. Futures End self-destructed due to its own success. While I'm positive that the original ending was changed, I'm not sure if editorial forced the change, although it is entirely possible. Going by the teasers released by Nerdist in October 2014, everything up until Tim becoming the new Batman is teased. Then in December 2014, the March 2015 solicitations come out and issue #48 has the solicitation "Eye Am Your Future." So from what I can gather, everything up until #47 went according to the plan and maybe after that, DC realized that this series had become successful. What if it was always part of the plan? The title of the series is Futures End, so we knew at the very beginning that every single alternate future would be affected and now the definitive future we have is the Great Disaster Future. Undoubtedly I am excited for Batman Beyond, but that is not the point. The point is that there is no resolution to the story. Everything about this series, from to the art—glorified by the coloring of Hi-Fi—to the writing and storyline was near perfect. This is a classic example of how the ending can ruin something so profoundly.
Futures End is not alone in this regard. Ready at Dawn's 2015 PS4 video game, The Order: 1886, is one of the most impressive video games graphically and boasts a wonderful game-play system, except, the way they ended the game, nobody can even really enjoy it. We all know Judgment Day can't be stopped and it really makes me wish that Terminator 2 had its intended opening, a scene where Skynet is disabled but, in its last moments, sends a Terminator back in time. Futures End should have been like that: Brother Eye is convinced that it should not let Earth-2 refugees arrive on Earth-0 so it re-powers the Time Band and sends Tim back to the future. Maybe the future isn't changed for the better, but should have at least been different from what we had initially.
Then there is the entire story of Brainiac and Brother Eye. While it is cool that Brainiac only arrives to "save" the population from the Brother Eye Future and Brother Eye is only activated to save the population from Brainiac, it does not mesh with what we previously had. Who was Brother Eye's new programmer? Personally, I've just resigned myself to saying King Faraday, whose association with Brother Eye is another unresolved plot thread. Ultimately, we could stay here and talk about what went wrong for hours and hours, but I still enjoy the series for what it was. I mean, in Terry McGinnis we found a different, more passive-aggressive Batman. And for the first time in five years, I have now read a Tim Drake story that I thoroughly enjoy. The Fifty Sue plot thread was very enjoyable and, yes, while it does get negated given that all the elements required to let it happen no longer occur, I can still remember laughing at her blowing up a miniature Slade Wilson. The best thing I can do deal with the disappointment related to the loss of retconned Futures End elements is to simply remember the great Futures End tie-ins released in September 2014 and remember how, through The Multiversity Guidebook, Grant Morrison wrote the rules that allow everything to be canon.
COLLIN:
I wonder if the creative team had a few more issues, they would have given us a better ending. Maybe the same ending, but a less bitter pill to swallow. Like maybe, we would've still gotten a fucked up Brother Eye Future, but one where the heroes are still kicking ass and on top of things despite Brother Eye's existence and power. Now, bear in mind that Batman Beyond might actually deliver that world to us, which is great, BUT Futures End failed miserably, as we've pointed out, in this regard as IT was supposed to have done that.
It's pretty crazy how this tossed-aside and virtually worthless erased timeline built up over the course of a full calendar year has some really key important stuff coming out of it in regard to "Continuity with a Capital C." I mean, Brainiac God is defeated on this dead timeline, directly resulting in Convergence! Tim Drake as Batman (for the first time ever) is born from this defunct timeline and spewed into mainstream canon! The Earth-2 heroes are spared a gruesome death thanks to actions that occur on this erased timeline! And there are even a few other things of note as well. Again, the statement "Everything Counts But None Satisfy" rings so, so true. Or maybe more apropos: "Everything is ostensibly important and affects canonical continuity, but aside from that who gives a shit and who fucking cares."
Let's say I get on-board with the IDEA of Futures End. And I definitely can. Hell, I enjoyed the idea for almost a year! The big problem is that, when the idea fails, it crashes and burns. That being said, if this was always DC's concept for Futures End, WHY decide to have it be a weekly series that lasts a full year!? Instead, why not do this type of story in an economical 7 to 12 issues? If they had, I bet no one would have complained. It would have been a good version of Brian Michael Bendis' Age of Ultron.
Can there be any redemption for New 52: Futures End if, say, Plastique, Fifty-Sue and her "family," or other throwaways somehow appear in Batman Beyond? Or will is just be regarded as more of DC trying to sell the idea that Futures End "mattered" somehow, too little too late? There remains a possibility of some positive retro-review action, but I won't hold my breath. In the end, all we will likely ever have is a forgotten title that amounted to a hill of beans. Any final thoughts, Singh?
SINGH:
We've said it all, haven't we, Collin. In any series, even a long-running one, everything can be good until literally the last issue, which has the power to negate all the goodness prior. All in all, Futures End is a perfect example of a story that had top notch writing, wonderful art, and a great big-event-feel that completely shit-canned itself with its last issue.