For anyone who doesn't know, Marvel has just launched their new Ms. Marvel series to great critical acclaim. In a commendable effort to add diversity to their main line, the new Ms. Marvel, Kamala Khan, is a Pakistani-American teenager with an Islamic faith. As someone who believes comic characters should be more diverse in terms of race, gender and sexuality, there's a part of me who finds this to be great. As an atheist, however, I cringed when I heard that her religion would be a big part of her character. The idea of a new character that openly subscribes to any theistic religion is something that I find incredibly unappealing. What the publisher is essentially saying is, here's a new character who has a faith, that is, who openly believes extraordinary claims about the nature of the universe and she requires no evidence to justify her beliefs. We would never expect a large publisher like Marvel Comics or the self-proclaimed Muslim convert G. Willow Wilson to ever portray Islam or any accepted mainstream religion in a negative light, and given the despicable and morally objectionable teachings written in all the holy books of the Abrahamic religions, they might as well be introducing a new hero who belongs to a cult; the tenets of which instruct and condone slavery, subversion of women's rights and critical thinking, infanticide, anti-homosexual rhetoric, and general anti-humanism. I picked up the first issue of this series and read it. I was mostly perplexed by the over-the-top douchy-ness of all the secondary characters until I became alarmed near the end of the book. In a scene where Kamala appears to be hallucinating, she meets apparently "spiritual" versions of Iron Man, Captain Marvel and Captain America spouting utter nonsense. The scene only serves to reinforce the religious idea that questioning or rebelling against one's faith only leads to negative results. Frankly, I was disgusted.

Every time she reminds the reader that she's a religious person, we can't help but remember that she's been tragically indoctrinated into an ideology of hate and narrow-mindedness. Because Islam is a mainstream, accepted religion in the real world, and because the book's writer is religious, we will probably never see Kamala overcome this. Do we need more diversity in comics? Absolutely. What we do not need, however, is more representation from groups who actively or passively subvert diversity. It is as if the editors at Marvel thought, "Hey, our line should be more diverse. Lets improve our diversity by positively representing a group of misogynistic homophobes." Creating a brand new female character of an ethnicity other than Caucasian to star in her own book is certainly two steps forward, but making her inexorably tied to an ideology that in and of itself undermines diversity is three steps backwards, in my opinion. This was an easy drop for me.
This essay is in no way meant to only target Islam. There are other characters of faith that have this problem as well, and of course not just at Marvel. The Helena Bertinelli Huntress is perhaps the most annoying religious character there is. This murderous antihero never seems to let the reader forget how Catholic she is, and in case she isn't talking about her faith, you won't forget due to the enormous crucifix between her breasts. I can't help but roll my eyes when I see her appear on panel. Then there's Wonder Woman… but wait. I love and adore Wonder Woman. However, her faith is a big part of her character, right? Why do I love Wonder Woman? I found this question intriguing, and after a lot of thought I figured out the answer, which is primarily what this essay will examine, as well as the role that religion should play in comic books.
So do I find Wonder Woman to be an awesome character despite her faith? I would argue that the thing that Wonder Woman writers refer to as faith is, in fact, not faith at all. Faith is defined as a strong belief in a god or in the doctrines of a religion, based on spiritual apprehension rather than evidence. Diana believes that Zeus and the rest of the Greek pantheon exist not because the Iliad claims they do, or from anecdotal accounts of other people who believe they exist, but because she's met them personally, has been to Olympus and Tartarus, fought with Ares, and measured the empirical effects that these intercessory gods have had on the earth. When Diana prays to Hera or Athena for strength, she doesn't have faith that these goddesses will come through for her, but rather a reasonable expectation, much in the way that a child has a reasonable expectation that if she is hurt then her parents will take care of her and bring her to the doctor if necessary. Diana has evidence to support her reasonable assumption because she knows Athena personally and has directly and empirically observed her worldly intervention in the past. If I ask a friend to pick me up from work and he agrees, I have a reasonable assumption that he will pick me up from work. It may not necessarily happen. He may get a flat tire, get stuck in traffic or forget, but I still have a reasonable assumption that he will be there based on our previous agreement and relationship. I don't need faith for this and neither does Diana.
Secondly, Diana's "religion" has no tenets, commandments, doctrines or holy books. Greek mythology is assembled through ancient poetry that once acted as moral parables for ancient Greeks. According to my research, Greek paganism has made no assertions of eternal punishment contingent on lack of belief or thought crimes, but rather Tartarus is the underworld where the souls of those who committed wicked acts would ultimately arrive. Diana has no mandate to convince people that Zeus exists, nor any impetus to, but rather that specific responsibility lays with the gods themselves.
Thirdly, Diana is a humanist. At her birth she was gifted, among other things, with the wisdom of Athena. As someone who knows the gods personally, she has witnessed their imperfections. They are often petty, irrational, angry, murderous, vengeful, or jealous, but these behaviors are not at all reflected onto Diana. Even Athena, who is portrayed as a strong, independent and stoic, lacks compassion, can be conniving, and comes off very cold. Also her motivation, like that of all the gods, is to bring new worshipers to the gods of Olympus.

In this sense, Diana is morally superior to even Athena herself, as she possesses said compassion. Diana is not motivated to do good by increasing worshippers for Athena or any god, but rather her moral system is something she has developed herself through her own ability to reason. She sees that she lives in a world with other people, assumes generally that life is preferable to death, that people generally don't want to have their possessions stolen, and that health is preferable to illness, thus acts in such a way to maximize the welfare of humanity, which is not at all a reflection of the gods themselves. This is consistent with the wikipedia definition of humanism: "Humanism is a group of philosophies and ethical perspectives which emphasize the value and agency of human beings, individually and collectively, and generally prefers individual thought and evidence over established doctrine or faith." I believe the most profound example of this occurs during Greg Rucka's run on
Wonder Woman
, wherein due to the machinations of Athena, a child is turned to stone by Medusa, who then threatens to turn thousands of people to stone. In order to defeat her, Diana permanently blinds herself, deeming that humans are of even greater importance to her than her own eyesight and the will of Athena herself. This act of sacrifice in the name of humanity makes Diana superior to the very gods that created her. Most importantly, Diana's love for humanity is not in any way contingent on whether or not people believe Zeus exists. She is not motivated by pity for wayward souls, but rather she is good for the sake of being good.
Furthermore, Diana is willing to forsake her gods at the drop of a hat for the people she loves. This is something few real world Christians or Muslims would ever admit to.
Lastly, I really like what Greg Rucka did to set up the reactionary Christian right groups as villains in his run on the book. In his first arc, "Down to Earth", Diana writes and has published a book of humanist essays and speeches that comes under heated criticism by the Christian Right who forms a group absurdly named "Protect Our Children." The primary public detractor of Diana's book goes on television to denounce the book and Diana's representative, through asking the right questions, causes the man to betray his own sexism and the absurdity of his argument. This is, in my opinion, one of the most satisfying moments in comic book history.
There you have it! Wonder Woman is awesome. She stands in stark contrast to one of the other characters with "faith" that I mentioned earlier: The Huntress, Helena Bertinelli. Helena's religious thinking is much more consistent with real world religious thinking. Helena believes in the Christian god without vetted evidence. Granted, in the DC universe the Christian god may in fact exist. We've seen Constantine and Swamp Thing visit hell. We have both Linda Danvers and Zauriel who claim to be angels in service of the Christian god. However, Helena presumably knows nothing about Swamp Thing or John Constantine, thus believes because simply because she claims to have "felt his presence", which, of course, is in no way independently verifiable. Observe this scene from Phil Jimenez's
Wonder Woman
run, where the always awesome Artemis makes way more sense than the Huntress: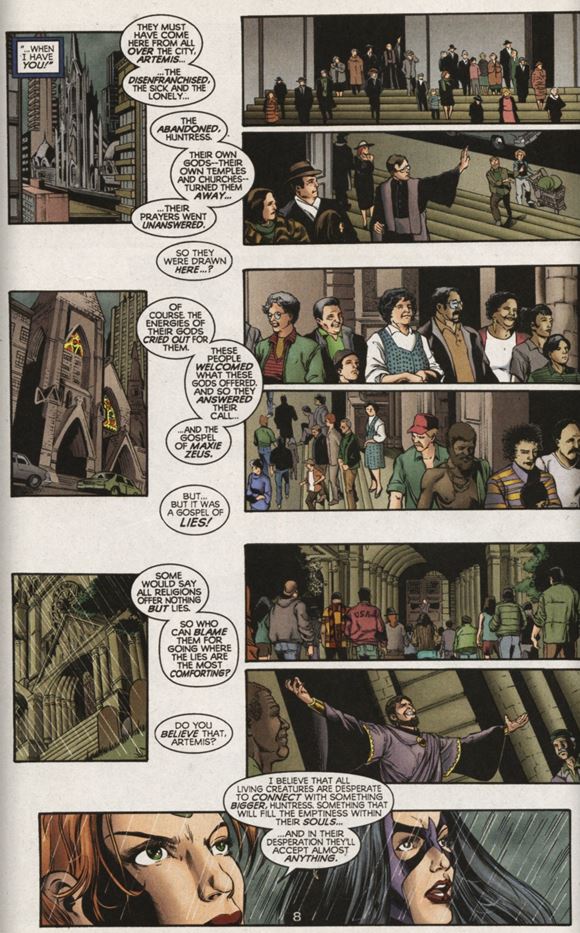 There are more reasons than what I've just written that I love Wonder Woman. When in the hands of a capable writer, her kindness and love for humanity work to elevate those around her. Since this essay is already getting pretty long, I'll just say this about religion and comics. Ideally, I don't think it should be represented at all. To not alienate readers, a character's religious convictions should probably remain ambiguous. That said, I do very much enjoy when comics are critical of religion.
Hellblazer
, for example, is very cynical about religion, and I love it. I'll leave you with one of my favorite pages in all of comics that addresses the topic of religion. Paul Cornell's Lex Luthor gets in spot on, in my opinion.
__________________________________________________________________
by Jamison Weber
__________________________________________________________________
ABOUT THE AUTHOR: Weber is a long-time comic book fan in his mid 20s with an Economics degree from UCSD. Currently he is working toward a graduate degree in mathematics education in Arizona, and continues to nourish his passion for comic books whenever he gets the opportunity.
__________________________________________________________________