Welcome to the start of Batman's "Year One Era"—an over-arching term that describes his first ten years in action. These first ten years can also be said to comprise the "Modern Silver Age" and subsequent "Modern Bronze Age." BUT since that terminology is insanely confusing, I've simply labeled this time period as the "Year One Era." Year One gives us the first twelve Batman stories in numbered chronological order. Some of them overlap each other and, thus, I've split up a lot of the stories using sub-letters attached to the numbers. One final note: Frank Miller's "Year One" is literally one year long, spanning January until December, although Batman doesn't go out in-costume until April. After all of the editorial changes spawned from Zero Hour and subsequent "contemporary time-sliding" the correct calendar period for Bat Year One is 1989. Nuff said!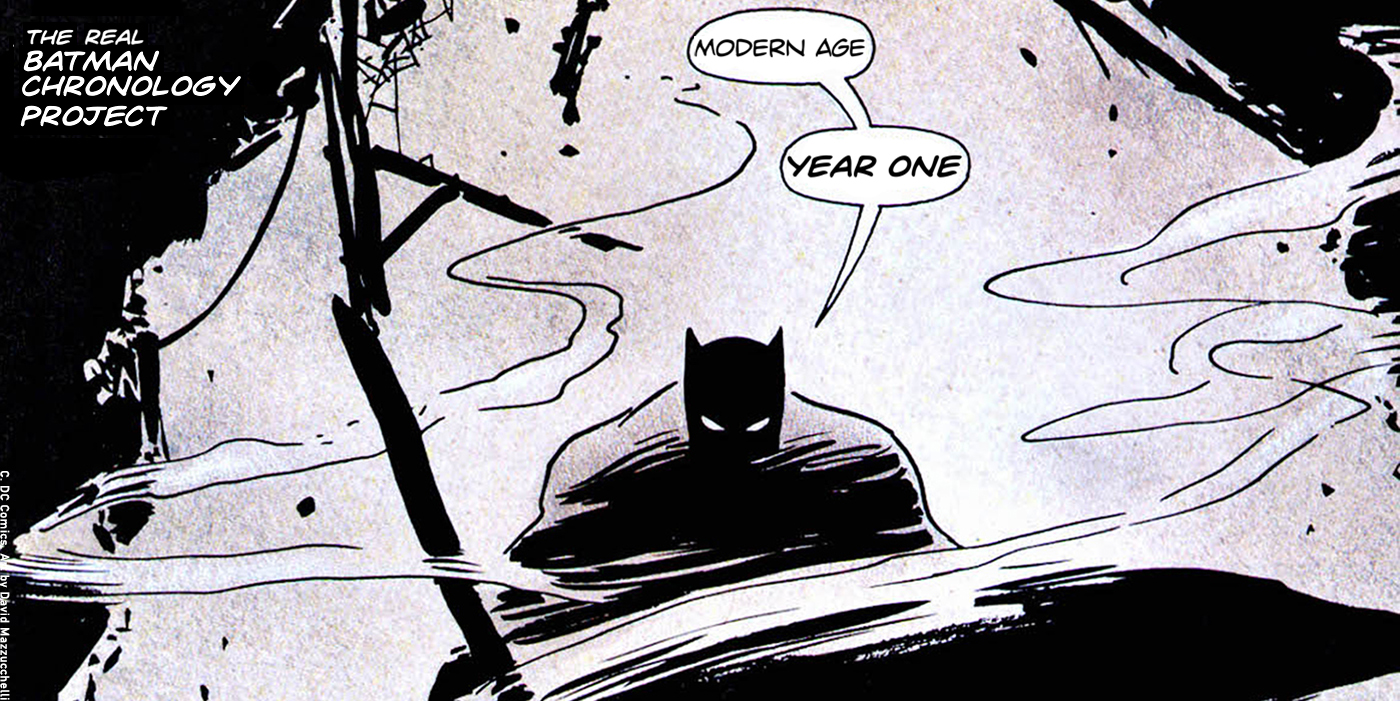 1A. "Shaman Part 1" by Denny O'Neil/E. Hannigan (Batman: Legends of the Dark Knight #1) November 1989[4]
Twenty-five-year-old multimillionaire Bruce Wayne has spent the last twelve years of his life training to fight crime. His goal is to avenge the murders of his parents by taking down all evildoers using non-lethal force.[5] Bruce has just spent the last days of 1988 training with bounty hunter Willy Doggett in Northern Alaska. Doggett was killed by criminal Tom Woodley, who also managed to injure and strand Bruce in the frozen wilderness. Bruce was taken in by some locals and nursed back to health. By the time January arrives, Bruce is well enough to travel back to Gotham. After twelve long years, Bruce is finally ready to go home—ready to go to war.
–REFERENCE: In Batman #404 and Batman: Legends of the Dark Knight #172. The cursive font used by Bruce/Batman in Frank Miller's "Year One" is a strong indicator that he constantly writes about everything that happens to him in a journal. This isn't a casebook or crime-log, but a personal journal or diary instead. The "Testament" arc (LOTDK #172-176) confirms that Bruce/Batman was indeed journaling for at least throughout his first year-plus of costumed adventuring. Therefore, we must imagine, sprinkled invisibly on our timeline below, Bruce/Batman pausing from time to time to make entries into this journal.
2A. "Batman Year One" by Frank Miller/David Mazzucchelli (Batman #404) February 1987
January 4-February 26.[6] Bruce arrives back in his hometown of Gotham City and reunites with his trusted friend and butler, Alfred Pennyworth, at Wayne Manor. (The arrival scene at Wayne Manor is also shown with more detail in Batman: Legends of the Dark Knight #1.) Bruce, not yet ready to patrol the streets, continues training. Meanwhile, Lieutenant James Gordon and his pregnant wife Barbara Gordon arrive in Gotham on the same day. Jim has transferred back to the extremely corrupt Gotham City Police Department (GCPD) from the Chicago PD. The vile Commissioner Gillian Loeb pairs Gordon with the loathsome Detective Arnold Flass. It's not long before the entire Gotham Force hates Gordon for doing honest police work. While not specifically mentioned, Bruce's birthday, according to pre-original Crisis stories, was February 19, so if this still holds true then Bruce turns 26-years-old in February.[7]
–REFERENCE: In JLA #119. In addition to journaling, Batman also begins keeping a photo scrapbook. Therefore, similar to the journaling mention above, we must imagine, sprinkled invisibly on our timeline below, Batman obtaining photos and clippings and inserting them into his scrapbook. Note that the Dark Knight will show special affection for Catwoman, dedicating a section of his scrapbook solely to images of her.
2B. "Batman Year One" by Frank Miller/David Mazzucchelli (Batman #404) February 1987
March 11. Detective Arnold Flass and a few buddies, on orders from Commissioner Loeb, beat up Jim Gordon with baseball bats. On that very same night, Bruce ends his training and attempts his first act of vigilantism. In disguise as a scarred army vet, he takes to the worst streets of Gotham's East End, getting in a fight with prostitute/martial-arts expert Selina Kyle,[8] her young friend Holly Robinson, and the lowlife Stan the Pimp before getting shot by some bad cops. Bruce barely makes it home alive. (Batman: Legends of the Dark Knight #1 shows a two-and-a-half-page recap of Bruce's failed first night out.) As Bruce sits slumped over and bleeding out in Wayne Manor, a bat crashes through the window inspiring him to become a costumed vigilante. (The scene of the bat crashing through the window is also shown via flashback from Batman: The Return #1, with a little added story detailing how the bat came upon Wayne Manor as it did on this fateful night.)
1B. "Shaman Part 1" (continued) by Denny O'Neil/E. Hannigan (Batman: Legends of the Dark Knight #1) November 1989
March 11. A bloody and battered Bruce rings his bell and Alfred comes to assist him. Bruce will spend the next few weeks healing-up, tailoring a Batman costume for himself, and setting-up his underground headquarters. Note that Batman tailors several cowls, each of which have different ear lengths (as referenced in Adventures of Superman #643). Amazingly, when artists decide to draw whatever Bat-ear lengths they desire (as we will so often see in the comics), it's not simply an artist's rendition—it's canon that Batman specifically wears different cowls on different cases! The implication is that each set of ears has a unique function. For example, one might have better head protection whereas another might have a better built-in communication device. During this time period, Bruce also creates his utility belt, which will be stocked with various crime-fighting accoutrements. (While we won't see him doing it on our timeline, Bruce will constantly replenish and update his utility belt stock, moving forward.) For a few weeks, Bruce takes extra special care while finalizing his costume and setting-up his underground HQ. Only after this period of intense focus will Bruce be ready to have another go at crime-fighting again.[9]
–REFERENCE: In The Batman Chronicles #19, Part 1 Intro. March. Still healing from the injuries suffered during his initial East End outing, Bruce begins dating socialite Viveca Beausoleil.
–REFERENCE: In Superman/Batman #85 and Batman Confidential #1-6. March. Bruce takes control of his family's business, Wayne Enterprises—a publicly traded international conglomerate that has many subdivisions and subsidiaries, notably WayneTech, Wayne Industries, and the Wayne Foundation. (WayneTech deals in the research and development sector, Wayne Industries aptly deals in the industrial sector, and the Wayne Foundation deals with real estate, acquisitions, and the financial sector.) After assuming leadership of Wayne Enterprises, Bruce files for patents on thousands of individualized mechanical parts, which he immediately uses to begin creating secret Bat-technology and weaponry, including Batarangs. Bruce will secretly use WayneTech mechanical parts in this way for decades. Bruce also begins pilfering tech from his own company. Because Wayne Enterprises is a publicly traded company, Bruce is technically committing a major string of felonies by defrauding his own stockholders! Oh well. Moving ahead on our timeline, be aware that Bruce—as the head of Wayne Enterprises—will have a near constant engagement with the company's business, finance, and tech dealings. This will be done mostly to keep up appearances, but will still take up a lot of Bruce's time in-between Batman cases. We won't see much of this activity on the timeline below, but, suffice to say, we should imagine it occurring invisibly as we move forward.
–FLASHBACK: From Christmas With the Super-Heroes #2. March. Bruce examines the entrance to the caverns beneath Wayne Manor, which he had fallen into as a child. Bruce decides to use it as his Batcave. Note that the Batcave includes a complicated series of connected underground rivers that run into Gotham Bay. This system surely must comprise some of the longest underground waterways in the world, so keeping it hidden will be no small task. We can assume that Batman will use various camouflaging means and use his computer resources to erase geological history records in order to keep his secret safe.
–FLASHBACK: From Batman: Legends of the Dark Knight #2. March. This flashback wasn't meant to be written as a flashback. It is a scene that occurs in Legends of the Dark Knight #2 that shows Bruce and Alfred examining the cave underneath Wayne Manor as they prepare for construction of the Batcave. However, since the Batcave can be seen in use in many of the stories in Year One, we must assume that Bruce and Alfred begin work on the cave right now and will continue to do so throughout the year until its full completion, thus treating this scene as a flashback to right now.
–FLASHBACK: From Christmas With the Super-Heroes #2. March. Bruce and Alfred haul computers and other equipment into the Batcave, which is now under construction. Bruce and Alfred will eventually fill the Batcave with various vehicles and weaponry. It will also contain a fully functional state-of-the-art crime lab and training gym.
–REFERENCE: In Batman #701, Part 1. March. Bruce, while checking out the caverns on the opposite side of the currently-under-construction Batcave, discovers a room hidden deep beneath Wayne Manor. The room has a secret passageway that connects to Wayne Cemetery above. Inside the room is a cryptic note from Bruce's parents that orders him to keep the room secret and safe. Bruce will abide by this. The room won't come into play for over two decades. What is this room? It is Simon Hurt's Barbatos-worshipping room, used by the Black Glove prior to Thomas and Martha living in the Manor. (Note that Hurt has never actually interacted with the demon Barbatos. His obsession with Barbatos comes from having confused the Hyper-Adapter for Barbatos. More on that much later.) Shortly after Bruce's birth, Hurt came into Thomas and Martha's life. Unsure of whether he was truly family and/or insane, Martha took the wayward Hurt into their lives after hearing details of his life and believing him to have been unnaturally corrupted. Unable to help their ancient relative, Hurt (who Thomas and Martha referred to as "Thomas Wayne Jr") was confined to Willowwood Asylum before disappearing. Not sure what to do next, the Waynes simply block-off the room and passageway and leave the note for Bruce, should he ever discover it. The details of Hurt's interactions with Martha and Thomas Wayne are referenced in Batman & Robin #15-16 and Batman: The Return of Bruce Wayne #4-6.
1C. "Shaman Part 1" (continued) by Denny O'Neil/E. Hannigan (Batman: Legends of the Dark Knight #1) November 1989
April 5. Bruce dons the costume that will strike terror into the hearts of evildoers, becoming the vigilante superhero known as Batman. Suited-up for the first time, Batman prepares for his first patrol of the city. (The Zero Hour tie-in issue of Detective Comics #0 by Chuck Dixon/Graham Nolan also has a notable flashback to Batman's preparations prior to heading out on this nervous first night.) Batman will be referred to by various nicknames, including "The Dark Knight," "The Caped Crusader," "Dark Detective," and "The World's Greatest Detective."
2C. "Batman Year One" by Frank Miller/David Mazzucchelli (Batman #405) 1987
April 5-6.[10] Bruce wears the Batman costume for the first time out in the world and traverses Gotham rooftops. In this single-panel we see Batman on his way to Leslie Thompkins' clinic, which has been plagued by several recent break-ins. The image shown in Miller's "Year One" is after midnight on April 6, but we can presume that Batman dons the costume before midnight, technically making his start on April 5.
1D. "Shaman Part 1" (continued) by Denny O'Neil/E. Hannigan (Batman: Legends of the Dark Knight #1) November 1989
April 6. We pick up LOTDK #1 near its conclusion. Bruce has suited up as Batman for the first time and now visits Dr. Leslie Thompkins' clinic, beats up some robbers, and witnesses a bizarre suicide. This is Dr. Thompkins' first encounter with Batman on his very first night out.
–REFERENCE: In Batman Confidential #1 and Detective Comics #575. Batman breaks into the cold case section of the GCPD evidence room and steals the gun that was used to murder his parents. He doesn't know that it belongs to Joe Chill and won't find out for a few more years.
3A. "Got a Date With an Angel" by Steve Englehart/J. Pulido (The Batman Chronicles #19, Part 1 Intro) Winter 2000
April 8-9. Bruce goes out with his girlfriend Viveca Beausoleil during the evening. Around 12:15 am on April 9, Batman busts some criminals, including a bazooka-toting madman. ("Got a Date With an Angel" specifically details Bruce's 4th through 7th days as Batman, so the rest of the tale will overlap with Batman #405.)
2D. "Batman Year One" (continued) by Frank Miller/David Mazzucchelli (Batman #405) 1987
April 9. Batman has just taken out the bazooka guy (from The Batman Chronicles #19, Part 1 Intro). Batman now takes out three teens trying to steal a TV on a fire escape, but nearly gets killed in the process. Clearly, he needs more practice. Across town, Lieutenant Gordon shares a strained exchange with his ever-distant pregnant wife Barbara. One of Gordon's underlings, Officer Stan Merkel calls him at home with reports of a "giant bat" sighting. NOTE: You will have to completely ignore the coloring of Gordon's hair in these first few years and chalk it up to artists' liberties. Yes, Gordon has red hair, but sometimes it's grey, and then it turns red again. We just have to assume that he dyes it every once in a while?[11] Oh, and for clarification, Gordon is initially a police lieutenant, but near the end of Miller's "Year One," he will be promoted to captain.
3B. "Got a Date With an Angel" (continued) by Steve Englehart/J. Pulido (The Batman Chronicles #19, Part 1 Conclusion) Winter 2000
April 9-12. At around 11:55 pm on April 9 (a night after Batman's encounter with the TV thieves), the Dark Knight takes-out a few hoods, including a crook with a jetpack. The next night (11:45 pm, April 10) it's more of the same action as Batman takes down some random thugs. Fifteen minutes later, Bruce meets Viveca and they spend midnight until last call dancing at a club. In the morning, Bruce returns home only to learn that the random thugs he busted escaped and caused four deaths while he was partying the night away. Bruce realizes that he can't continue to juggle a playboy's social life and vigilantism. Duh. Brucie calls Viveca and breaks up with her. The next night (presumably in the wee hours of April 12), Batman recaptures the random thugs for good.[12]
–REFERENCE: In Superman/Batman #86. Batman steals a new version of a high tech grappling gun from his own company and tests it in the field, saving six children from a burning building and stopping a shipment of nerve toxin headed for Gotham Bay. Bruce adapts this grappling gun tech into a device he will routinely carry around, allowing him to ascend to great heights and swing from building to building while on patrol.
—[13]
4. "One Night in Gotham City" by John Byrne (The Man of Steel #3)
May. Superman (Kal-El/Clark Kent) meets the outlaw Batman for the first time and reluctantly teams up with him to defeat Magpie. (As detailed through flashback in Superman #710, Bruce met Clark in their civilian identities while training in Bhutran, shortly before training in Alaska—in LOTDK #1—six months ago, but this is the first meeting between Batman and Superman in costume.) "One Night in Gotham City" is the official canonical first meeting between Batman and the Kryptonian Kal-El, even though much of the original Man of Steel series has since been retconned.[14]
–REFERENCE: In Superman #710—originally told in Superman #76. Superman, Batman, and intrepid young reporter Lois Lane track a diamond smuggler aboard the SS Varanian Princess cruise ship. When the smuggler blends in with the vacationers, Bruce and Clark assume their civilian identities to search the vessel. As fate would have it, Bruce and Clark wind up sharing a cabin and learn each others' secret identities! The World's Finest heroes dodge the snooping Lois and manage to nab the criminal. I should mention that Bruce might have already known that Clark was Superman, having witnessed Clark use superhuman strength while traveling abroad less than a year ago.[15][16][17]
–REFERENCE: In Batman #406. Bruce commissions an "unofficial" invention that is created by Wayne Electronics: a sonar device that attracts swarms of bats. He begins testing the device and will continue to do so over the course of the next couple weeks (overlapping into the May nights of our upcoming ongoing "Batman Year One" narrative). Using various frequencies, Bruce will eventually find the one that gets the bats' attention.
2E. "Batman Year One" (continued) by Frank Miller/David Mazzucchelli (Batman #405-406) 1987
May 14-August 7. Batman roughs up the corrupt Detective Arnold Flass, while the latter attempts a drug deal with Jefferson Skeevers. The next day Lieutenant Gordon and the fetching Detective Sarah Essen brief the GCPD officers about the supposed "Batman." Gordon says that the mysterious Batman has been linked to seventy-eight acts of assault since his debut in early April. We must assume this number is either exaggerated (or under-exaggerated). Either way, we have to imagine a lot of crime-fighting in the past five weeks on the part of the Caped Crusader that isn't specifically listed on our timeline. On May 19, Batman makes his presence known to Gotham's underworld in dramatic fashion at a fancy dinner at Mayor Wilson Klass' home.[18][19] The Dark Knight threatens Italian Mafia bosses Carmine "The Roman" Falcone and Sal Maroni and crooked GCPD Commissioner Loeb. The next day, having previously been treated as a joke by the cops, Batman is made Gotham's most wanted. By the end of May, Batman has struck up a secret working relationship with Assistant District Attorney Harvey Dent. On June 6, Gordon witnesses Batman save a pedestrian from a runaway truck, but the Dark Knight gets shot and cornered by the GCPD SWAT team (led by the nutso Lieutenant Branden and whacko Sergeant Frank Pratt) inside a vacant tenement building. The early morning of June 7 is rocked by a GCPD bombing of the building, which wakes up everyone within a mile radius, including prostitute/cat-burglar Selina Kyle and her young friend Holly Robinson. Selina and Holly join a large crowd of onlookers at the scene. Batman, although badly injured, escapes by using his sonar device, which attracts a swarm of bats. This dramatic escape scene is also shown in Catwoman Annual #2[20] and Catwoman #1 (also known as Catwoman: Her Sister's Keeper #1). A few days later, Gordon, suspecting that Bruce Wayne is Batman, tries to contact him. However, Bruce has gone to Switzerland to recover from his recent injuries, and cites a skiing injury to mask the true origin of his multiple gunshot wounds. On June 17, Selina and Holly leave Stan the Pimp, earning his ire. Meanwhile, Gordon begins an affair with Sarah Essen. On August 7, Selina debuts as Catwoman.
—[21]
–NOTE: In Catwoman: Her Sister's Keeper #2. August 8. One night after Selina's debut as Catwoman, an angry Stan the Pimp kidnaps Selina's sister Maggie Kyle. It is important to realize that Catwoman: Her Sister's Keeper #1-2 by Mindy Newell is only partly canon (we have to ignore most of the first two issues of this four-part series except for the important aspects—Maggie Kyle is indeed kidnapped by Stan the Pimp and Catwoman is indeed part-time trained by Wildcat Ted Grant, who also taught Bruce how to box back in the day). Early parts of this story overlap with Catwoman Annual #2 by Jordan Gorfinkel as well.[22]
–REFERENCE: In Batman & The Mad Monk #1. Batman sends some protection racketeers to prison, earning the favor of Gotham's police coroner Murray Fineman. This will grant him secret access to the police morgue whenever he wants.
–FLASHBACK: From Batman #682 and Batman: Streets of Gotham #20—originally told in Detective Comics #29-30 and Detective Comics #33. Bruce starts dating Julie Madison. Batman deals with mad scientist Dr. Death. Only months into his crusade, Batman barely sleeps anymore and has become a bit obsessive-compulsive, especially when Dr. Death debuts. Alfred tells Bruce that he can't neglect his new responsibilities to both Wayne Industries and Julie. After dispatching Dr. Death, Batman battles and defeats yet another mad scientist, Carl Kruger, who attacks Gotham in his "Dirigible of Doom." We won't see Kruger again, but Dr. Death will rear his evil head again years down the road as one of DC's premier science-villains.
–FLASHBACK: J'onn J'onzz aka Detective John Jones of the GCPD aka Martian Manhunter meets Batman (as chronicled in Martian Manhunter Vol. 2 #22). J'onn, a Green Martian, has been living on Earth since the late 1950s. Originally, he lived in Denver, then Metropolis, then Denver again, before moving to Gotham (where he is present for this story). J'onn will soon move back to the city he loves the most and can never seem to leave behind for too long: Denver.
–FLASHBACK: Alfred stitches Bruce up after a particularly bloody night's patrol. While he does so, Alfred tells Bruce of about all the possible different costumed vigilante themes he could have chosen besides that of a Bat (as seen through flashback in Batman #682).
–FLASHBACK: Batman #682 shows a flashback that is an homage to Detective Comics #27, depicting Bruce Wayne laughing-off the idea of the existence of Batman in conversation with Lieutenant Gordon.
–FLASHBACK: Batman #589 shows a montage (in random order) that depicts Batman attempting to use several other undercover aliases including; henchman-for-hire "Irving O'Neil," a bearded biker guy, a leather-clad Mad Max type, and a rehash of the scarred army vet character from Miller's "Year One." Batman tests these undercover aliases now. Note that this montage also depicts Batman dressed up as a Black man (in blackface no less) during a confrontation with the Joker. This Joker confrontation takes place next year.
–REFERENCE: In Detective Comics #827. Batman adds a few more colorful alter egos (complete with unique costumes) to use as undercover aliases when probing Gotham's underworld from within. "Eddie Nickels," "Brains Bronner," and "Lefty Knox" are just a few of a handful of fake gangsters that Batman invents. We can assume that Batman uses these undercover aliases randomly over the course of the next twenty years, albeit invisibly on our timeline.
–FLASHBACK: Early September. The Red Hood incident at Ace Chemicals occurs. Batman confronts the Red Hood, who falls into a vat of chemicals. In an instant, the Joker is born (as detailed through flashbacks from Alan Moore's Batman: The Killing Joke). There are also several significant flashbacks to the origin of the Joker in Batman: Gotham Knights #54. I should mention that Joker's wife was murdered and originally it was made to look like she was accidentally electrocuted. GK #54 retcons Moore's version of the story so that she was murdered and the crime was covered up by a boiler explosion. An apocryphal version of this incident is also shown (as told through a third-hand account by someone who simply read about it in a newspaper) in DC Universe Legacies #3. After the Red Hood incident ends, Batman keeps the Red Hood's helmet (as referenced in Batman: The Man Who Laughs).
2F. "Batman Year One" (continued) by Frank Miller/David Mazzucchelli (Batman #407) 1987
September 2-October 12.[23] Batman confronts Jefferson Skeevers and "convinces" him to cop a plea bargain with Harvey Dent, exposing Detective Arnold Flass as a criminal. Angered that his top man is going down due to the scheming of Dent and Gordon, Commissioner Loeb does a little threatening of his own and reveals that he knows about Gordon and Sarah Essen's affair. On September 25, Gordon, still convinced that Bruce is Batman, visits Wayne Manor with his wife. Bruce plays the role of drunk playboy, complete with sexy foreign "girlfriend" to throw Gordon off the trail. Afterward, Gordon tells Barbara about Sarah. On October 12, Barbara gives birth to James Gordon, Jr. Also on the 12th, the news reports that Catwoman has completed a series of four high-profile burglaries.[24]
–REFERENCE: In Batman & The Monster Men #5. Batman, in an effort to reach out, gives Jim Gordon a radio transmitter with which he can contact him at any time. Of course, Gordon won't use it for weeks since the real Batman/Gordon partnership won't develop until after Bruce saves Gordon's son on November 3 (in Miller's "Year One").
2G. "Batman Year One" (continued) by Frank Miller/David Mazzucchelli (Batman #407) 1987
November 2-3. Batman spies on Carmine Falcone at his estate. Catwoman makes a surprise visit to Falcone as well and scratches his face. During the daytime hours of November 3, Commissioner Loeb, frustrated that Gordon won't fall in line, orders an attack on his family. After a call to Falcone, the mobster's hitmen go to work, assaulting Gordon at home and kidnapping his baby. Bruce, in street clothes, saves James Junior's life when the tot gets tossed off of a bridge. Gordon thanks his son's savior, knowing that he is Batman, but without his glasses he can't see who his secret identity is.
–REFERENCE: In Catwoman: Her Sister's Keeper #3-4. November 3. These quasi-canonical Catwoman issues take place now because Batman mentions that he's only seen Catwoman once before this. (The epilogue/coda from Her Sister's Keeper #4 occurs three weeks later.) After pursuing a lead into the kidnapping of Maggie Kyle, Batman goes after Stan the Pimp. The Caped Crusader helps Catwoman save Maggie from Stan, who dies during the altercation.[25]
5. Batman & The Monster Men #1-6 by Matt Wagner
November 4-15.[26] Jim Gordon is promoted to captain. Gillian Loeb is put on trial, but is still technically commissioner, although the new acting-commissioner is Peter Edward "Jack" Grogan. Grogan won't become official until December 4. Bruce's first serious relationship with Julie Madison is highlighted and Batman deals with crime boss Sal Maroni's experiments in conjunction with Hugo Strange to create "monster men" out of mental patients. Batman learns of Strange's connection to the crimes and has his first encounter with the lunatic. However, the Dark Knight is unable to publicly link Strange to the crimes, thus allowing for his later appearance in "Prey."[27] It's also worth noting that the first appearance of one of the many versions of the Batmobile occurs here. Also, Matt Wagner initially wrote "Monster Men" to take place immediately after the Red Hood incident in September. Thus, the following problems must be addressed: The opening scene where Julie and her dad are eating outside on their rooftop patio and she's wearing a sleeveless shirt?—we'll assume they have heat lamps or that it's unseasonably warm. Also, in the very same scene, Julie's dad (Norman Madison) is reading a newspaper with the top-story about the Red Hood incident. We should disregard this too or assume that he is reading an almost two-month old paper.
6A. Batman & The Mad Monk #1-2 by Matt Wagner
November 15. Bruce stands up his girlfriend Julie Madison while engaging in his third meeting with Catwoman, who robs a store. Batman fights Catwoman, and the latter scratches his chest and escapes. Batman is then called to GCPD HQ via radio signal to meet Jim Gordon. There, Gordon and coroner Murray Fineman show Batman a corpse in the morgue that appears to be the victim of a vampire attack. Across town, the evil vampire cult responsible, known as The Brotherhood, gathers to sacrifice another victim to their leaders, the vampire called The Monk (Niccolai Tepes) and his partner Dala Vadim. Bruce spends the night at Wayne Manor with Julie.[28]
—[29]
7A. "Prey" by Doug Moench/Paul Gulacy (Batman: Legends of the Dark Knight #11-12)
November 16-17.[30] Batman busts some crooks, much to chagrin of GCPD Sgt. Maxwell Cort, who loathes Batman. Later, Bruce watches a TV program featuring Captain Gordon, Mayor Wilson Klass, and Hugo Strange. Strange disses Batman hard, angering Bruce. Bruce then works on the Batmobile, which has been completely stripped down, in an attempt to make it better and stronger. Later still, Batman fights both the The Fish and his gang along with Cort's new anti-Batman "Vigilante Task Force." Batman arrives home early on the morning of the 17th. A few hours later, Bruce has brunch with Mayor Klass, Strange, and Klass' daughter Catherine Klass. In the evening, Batman meets with Gordon and captures the Fish.[31][32]
6B. Batman & The Mad Monk #2-5 by Matt Wagner
November 17-18. After capturing The Fish (in "Prey") Bruce meets with Harvey Dent. When another vampire body shows up, Batman investigates and roughs up some dudes that work for The Brotherhood. The next day Julie is duped into visiting Rallstone castle, home of the vampire cult. There, she gets bitten by The Monk and falls under his spell. That very night, while on a date, Bruce sees her neck bites. Later, Batman trails Julie to Rallstone Castle, where the Dark Knight gets chewed up by attack dogs and bludgeoned by spiked traps. A bloody Batman retreats and meets with Gordon, who decides to get rid of his Bat radio transmitter (saying he needs something bigger and better). After making sure Julie is back home safe and sound, Batman returns to Wayne Manor where Alfred stitches him up.
7B. "Prey" by Doug Moench/Paul Gulacy (Batman: Legends of the Dark Knight #12-13)
November 18-19. Gordon, having earlier in the night tossed away his Bat radio transmitter, drapes a cloth Batman symbol over the GCPD rooftop spotlight, making the first ever Batsignal! Batman responds and approves, but departs to beat up some random street punks. Meanwhile, Max Cort becomes a masked vigilante known as Night-Scourge. On the afternoon of the 19th, Bruce listens to a news report about Night-Scourge's violent debut.
6C. Batman & The Mad Monk #5-6 by Matt Wagner
November 19. Still under the vampire spell of The Monk, Julie returns to Rallstone Castle and gives the Brotherhood access to her family's vast wealth. Batman then rescues Julie, who is about to be sacrificed, and defeats the Brotherhood. Dala Vadim and The Monk are killed during the fight. Julie learns that Batman is Bruce and cannot deal with the fact that her boyfriend is a vigilante superhero. As revealed in Robin Vol. 2 #13, Batman keeps the tattered, lightning-scalded shroud of the Monk as a souvenir—(we'll see it on display in the Batcave in a year's time). The Dark Knight then escorts the weary Julie home. Meanwhile, across town Sal Maroni murders Julie's father, Norman. With the combined weight of Bruce's secret revealed and the death of her dad, Julie decides to immediately leave Gotham for good.[33]
–FLASHBACK: November 20. Batman #682 shows Julie telling Alfred that she is leaving for Los Angeles to pursue an acting career. However, Matt Wagner (in Mad Monk #6) shows us that Julie winds up in the Peace Corps, so we must assume that Julie is either lying to Alfred or she changes her mind to join the Peace Corps.
–REFERENCE: In Batman: Legends of the Dark Knight #67. November 20. Batman saves Dr. Lynn Eagles from getting mugged and killed. Lynn will repay the favor in a couple years.
–FLASHBACK: November 20-22. Batman meets the criminal Matches Malone (as seen through flashback in Batman #589 by Brian K. Vaughan). After a confrontation with Batman, Malone fakes his own death and skips town. Believing him to be dead, Batman assumes his identity for future undercover use. Bear in mind, there is probably a surfeit of undercover work done by Batman—as Matches—to bolster the character's underworld reputation that is never specifically mentioned in any comic book. However, we simply have to imagine most of this credibility-building as occurring randomly throughout the timeline from this point forward.
7C. "Prey" by Doug Moench/Paul Gulacy (Batman: Legends of the Dark Knight #13)
November 22. Batman helps Catwoman fight off Night-Scourge, but gets beaten up pretty badly in the process. Allied with Hugo Strange, Night-Scourge then kidnaps Catherine Klass and frames Batman for the crime.
–REFERENCE: In the epilogue to Catwoman: Her Sister's Keeper #4. November 24. The coda to the quasi-canonical Catwoman: Her Sister's Keeper takes place now—three weeks after the rescue of Maggie Kyle—and features a very important moment: Batman's first canonical kiss with Catwoman! Her Sister's Keeper #4 may only be quasi-canonical, but this smooch definitely occurs!
–REFERENCE: In the second feature to Detective Comics #782. November 25. Batman begins the tradition of placing two fresh roses at the Crime Alley site of his parents' murders on the anniversary of their deaths.
7D. "Prey" by Doug Moench/Paul Gulacy (Batman: Legends of the Dark Knight #14-15)
November 25-29. Mayor Klass gives Captain Gordon five more days to apprehend Batman and find his daughter. On the night of the 25th Batman confronts Hugo Strange about Night-Scourge and the kidnapping. Strange drugs Batman with a powerful hallucinogen and Batman flees in a panic. The next afternoon, Batman is still tripping, but finally makes his way home. At Wayne Manor, Bruce is disturbed to discover that Strange has been in his home, and thus now knows his secret ID. Still under the effects of the drug, Bruce locks himself in the Batcave to recover. After three whole days quarantined in the cave, Batman emerges and unveils the new and improved Batmobile. Fully recovered, Batman publicly exposes Strange as criminal, helping Gordon rescue Catherine Klass in the process. Strange evades the cops, but falls into the Gotham River and is presumed dead. (We'll see him again.) Later, Batman defeats Night-Scourge with help from Catwoman. Night-Scourge, revealed as Max Cort, is then shot dead by cops in a firefight.
8. "Guardian" by Alan Brennert/Jose Garcia-Lopez (Batman: Gotham Knights #10, Part 2/Batman: Black & White) Dec. 2000
Batman meets the semi-retired original Green Lantern Alan Scott in this Batman: Black & White tale. Alan Scott was not only the original defender of Gotham City from the 1940s into the 1970s, but also one of Bruce's favorite childhood heroes.[34]
2H. "Batman Year One" (continued) by Frank Miller/David Mazzucchelli (Batman #407) 1987
December 3. This single page of Frank Miller's "Year One" originally referenced that an unknown person, simply calling himself "The Joker," sent word to the GCPD that he was planning on poisoning the Gotham Reservoir, which resulted in a citywide panic. HOWEVER, Batman: The Man Who Laughs retconned Joker's December 3rd threat to the reservoir as non-canon. As per The Man Who Laughs, Joker doesn't make his presence known until December 5th (the day after Loeb officially resigns). Plus, Joker first targets high profile Gothamites before targeting the reservoir. And when Joker finally does strike at the reservoir it comes as a relative surprise without a public panic-inducing warning. Oddly enough, this is the only retcon to Miller's generally untouchable "Year One" that exists. So, after all is said and done in the retcon world, all that happens in this December 3rd scene is that Gordon stands atop the GCPD HQ and waits to meet with Batman. We also learn that Sarah Essen has moved to New York and that Commissioner Loeb is set to resign at any moment.[35]
6D. Batman & The Mad Monk #6, Epilogue by Matt Wagner
December 4. Bruce gets a letter from Julie, who is starting her service with the Peace Corps in Africa. In Gotham, Batman is alerted by Gordon about corpses in a warehouse that have rictus grins on their faces. Commissioner Loeb resigns on this date, making Grogan the official commissioner (as referenced in Batman: The Man Who Laughs). Mayor Klass, whose administration is in shambles, will resign sometime in December as well. Klass will be replaced by Mayor Gill (as referenced in LOTDK #169-170), who will remain Gotham's top official until his assassination in Bat Year Six.
9A. Batman: The Man Who Laughs by Ed Brubaker/Doug Manhke
December 4-8. It has been a little over three months after the Red Hood incident. Batman meets with Captain Gordon at the warehouse full of rictus grinning murder victims (the very same cadavers mentioned in the epilogue of Mad Monk #6). The next day, the debuting Joker interrupts a news report about the upcoming reopening of Arkham Asylum, and introduces himself to the public on live TV. Joker threatens to kill prominent Gothamite Henry Claridge at exactly midnight. Sure enough, despite massive police protection, Claridge keels over with a forced smile on his face, a victim of time-release Joker Toxin, which he had been dosed with earlier in the day. Across town, Joker kidnaps a bunch of mental patients and turns them into his henchmen. In the morning, Joker threatens to kill millionaire Jay Wilde. When night falls, Joker is much less subtle this time, attacking the GCPD and Batman head-on via helicopter and shooting Wilde dead with Joker Toxin-tipped bullets. The next day, after some chemical analysis, Batman learns that the man in the Red Hood costume that fell into the vat at Ace Chemicals three months ago is the Joker. Batman tracks the Joker and discovers that the madman has been looking at survey maps. Batman here seems unsure as to what Joker was searching for, mistakenly thinking it has something to do with the sewers. This feels like a continuity error on the part of Ed Brubaker—Batman surely would have realized Joker was finally ready to strike the reservoir since he'd already made that threat earlier in the week (on December 3 in Miller's "Year One"). But since this is the definitive Joker origin, published in 2005, as I've stated above, the error becomes a retcon. Joker publicly threatening to contaminate the reservoir on December 3 simply never happened. Oh well. Batman spends the next two days creating an antidote to Joker's Toxin. Joker then appears on TV again to threaten Judge Thomas Lake and Bruce Wayne! In order to free himself of police protection, Bruce fakes his own death at 11:30, injecting himself with Joker Toxin (and then having Alfred cure him in an ambulance down the road). Batman then realizes that Joker is going to attempt to poison the reservoir, battles Joker's crazy henchmen, and prevents the Clown Prince of Crime from doing so.[36] The epilogue to The Man Who Laughs takes place a few weeks later, and is listed below.
—[37]
10A. "Do You Understand These Rights?" by Andrew Kreisberg/Scott McDaniel (Batman Confidential #22-25) December 2008 to March 2009
December 8-15. First of all, Kreisberg incorrectly refers to Gordon as Lieutenant throughout this arc. Ignore it. Our story picks up right after The Man Who Laughs ends. Batman hauls in Joker to jail and meets with Gordon. From jail, Joker uses his one phone call to phone GCPD Detective Geoff Shancoe's wife Holly and, posing as her doctor, tells her she has a rare fatal blood disease. The unstable Holly commits suicide as a result! The next day, Batman and Gordon attend Holly Shancoe's funeral. A day after that Joker nearly escapes on his way to his arraignment hearing, killing two guards in the process, but Batman makes sure he gets to court. At the hearing, Bruce watches from the crowd as ADA Harvey Dent asks for an "expedited trial" aka "rocket docket." The fast-tracked trial is granted by the judge, who sets the trial to last for four weeks starting on December 13. However, before the judge can even bang his gavel, Joker, having learned of a serious allergy, kills the judge by flinging a peanut into his drinking water. If you haven't already suspended all disbelief, do it now. The next day at trial, Joker manages to kill the court psychiatrist with a well-placed banana peel. That night, Batman gets purposefully arrested as Matches Malone in order to meets with Joker face-to-face in an attempt to get inside his head. Finding it impossible to do so, Batman bolts and frustratingly heads home. On the second day of the trial, a new judge halts the proceedings, citing that Joker is too "psychologically damaged to continue," and sentences the insane criminal to Holly Springs Psychiatric Hospital. Angered at the decision, Geoff Shancoe snaps and shoots Gordon and another cop, cuts off Joker's transport to Holly Springs, and puts a gun to the villain's head. Batman arrives just in time to take down Shancoe, but a freed Joker puts the gun to Batman's head. Gordon, safe and sound thanks to his bulletproof vest, arrives as well and takes down the Joker. On the 15th, Joker goes to newly opened Arkham Asylum—he is patient number one, with Shancoe as patient number two.[38] Batman Confidential #25 has an epilogue involving the first capture of the Riddler, but that doesn't take place until late March, so we'll see it a bit later on our timeline.
9B. Batman: The Man Who Laughs Epilogue by Ed Brubaker/Doug Manhke
December 15. With Joker in Arkham, Batman meets with Gordon and they discuss this horrific new super-villain.
–REFERENCE: In Batman Annual #11 and Batman: Legends of the Dark Knight #167—originally told in Detective Comics #58. Oswald Cobblepot aka The Penguin makes his debut and meets Batman. There is no actual story in the Modern Age that specifically shows the original meeting between Batman and Penguin, but it must take place very early in his career, hence its placement here. Penguin definitely makes an appearance (or multiple appearances in a row) sometime in Year One. Despite debuting now, Penguin's MO is to commit crimes with the façade of appearing like he is running a legitimate business, so he won't really be on Batman's true crime radar until a bit later. In Batman Annual #11 (which occurs in Bat Year Eleven) it is revealed that the Penguin has been in and out of prison for at least ten years prior to Batman's debut. It can be assumed that Cobblepot's outrageous nature (i.e. use of umbrellas and bird-themed crime) develops as a direct result of both the Batman's presence and the ever-changing nature of super-villainy and "popcrime" in Gotham. Penguin would have been a notorious quasi-Gotham celebrity criminal/club-owner for nearly a decade before Batman's first appearance. Also, worth noting: Batman will collect a ton of Penguin's staple trick umbrellas over the course of the next two decades.
11A. "Irresistible" by Tom Peyer/Tony Harris (LOTDK #169, Introduction) September 2003
December. Batman busts some gun-toting jerks that try to carjack an old lady. Meanwhile, we (the reader) are introduced to Frank Sharp, a born loser who just happens to be a metahuman with the telepathic power of coercion. Despite his incredibly deformed face, he can order anyone to do just about anything simply by shaking their hand. Sharp will spend the next six months using his power to get whatever he wants, at which point Batman will be on him like white on rice. But we'll get to that in six months.
–FLASHBACK: December. Christmas With the Super-Heroes #2 shows a scene of Batman, having just returned to the Batcave, walking away from the Batmobile. This could take place pretty much anywhere, but works here.
12. "Shaman Parts 2-5" by Denny O'Neil/E. Hannigan (Batman: Legends of the Dark Knight #2-5) Dec 1989 to March 1990
Late December. I could have labeled this story as "1D" since it continues the "Shaman" storyline. However, enough time has passed that this seems like it warrants its own number. LOTDK #2-5 concludes the Shaman investigation. Bruce says that six months have passed since the events of issue #1, but it is definitely late-December, which would make it more like eight months, so maybe his recollection is a bit shaky. The conclusion to "Shaman" starts with a series of deaths that link to the suicide that Batman witnessed on his very first night out at Leslie Thompkins' clinic. An investigation into the deaths leads to criminals Carl Fisk and Tom Woodley. Batman and Alfred travel to Alaska to deal with Fisk and Woodley. "Shaman" ends on Christmas Eve. Don't forget, the scene in LOTDK #2 which details the origin of the Batcave isn't written as if it is a flashback, but Bruce has already been using the Batcave for some time now. Therefore, this scene must be considered a flashback to early in the year (which can be viewed above).
—[39]
<<< PREVIOUS: SALAD DAYS <<< |
<<< PREVIOUS: INTRO <<< | >>> NEXT: YEAR TWO >>>